We charge tax on orders shipping to a number of states where NeweggBusiness is required to collect tax. If you are a tax-exempt organization or reseller, you can apply for tax exemption on your Neweggbusiness.com orders by following these steps:
Create account for tax exemption portal
1. Create a Neweggbusiness.com account if you do not have one.
2. Once you have created a NeweggBusiness account, click here: NeweggBusiness tax exemption application link***
***Please note: If you are not signed into your NeweggBusiness account before clicking on the above link you will be directed to sign in.
***When signing in, please sign in using the primary account and not the sub-account.


A) Returning user: Once you fill out your information click LOG ON.
B) New customers to NeweggBusiness: Create a Newegg account if you do not have one.
3. Click on the Create New User link.


4. Input your NeweggBusiness customer number in the Existing Customer section shown below. If your account is not the primary one, but a sub-account tied to it, please enter the primary account number.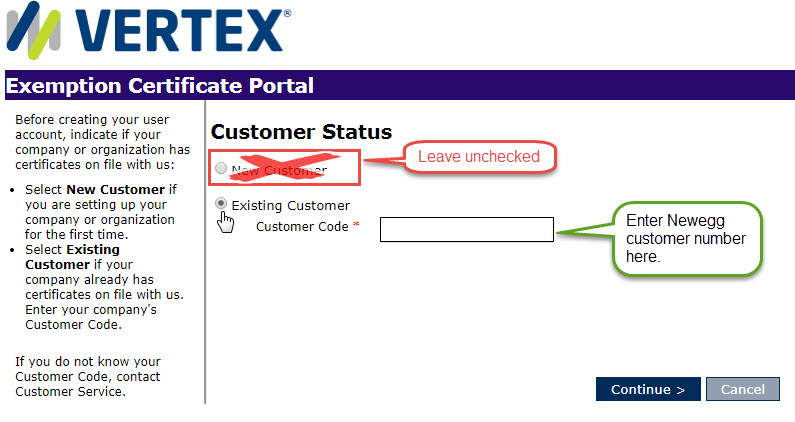 5. Follow the on-screen directions to create a new certificate. Once this process has been completed and a certificate account record has been created, you will be able to access this information to renew existing certificates and add additional certificates if needed.  PLEASE CREATE ONLY ONE ACCOUNT.  Duplicate account records may delay the tax exemption process and may cause your application to be rejected.