Within the United States, NeweggBusiness.com charges tax on orders shipping to a number of states where NeweggBusiness is required to collect tax. If you are a tax-exempt organization or reseller, you can apply for tax exemption on your NeweggBusiness.com orders within your account or during checkout.
Before applying, please see the following helpful tax exemption guidelines here.
Applying For Tax Exemption
Be sure to create a NeweggBusiness.com account if you do not have one.
1. During checkout select Apply for Tax Exemption or navigate to your Account and select Tax Exemption Application found under Account Settings.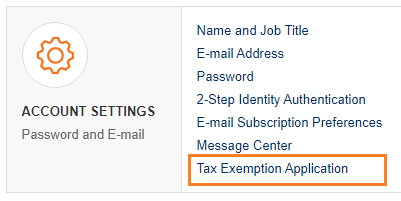 2. Click on the Submit Tax Exemption button to apply. You will also see a list of any previous certificates you have submitted.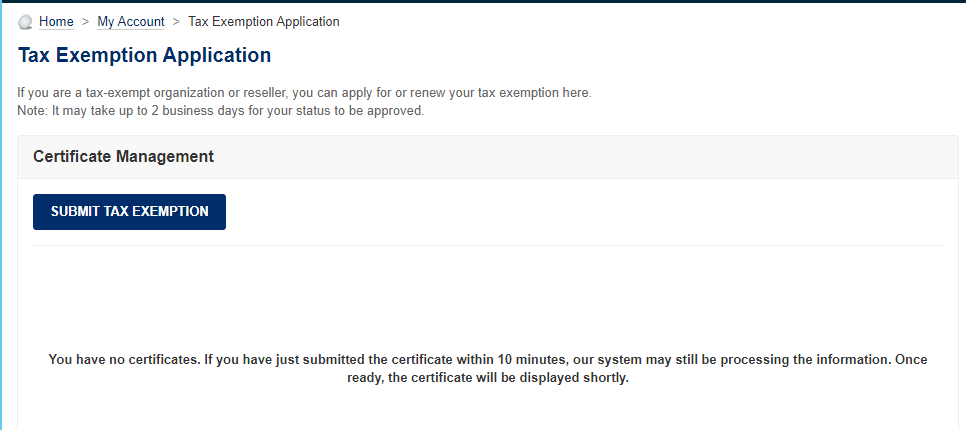 Can a sub-account apply?
The Tax Exemption Application portal can only be accessed by a Primary User on the account. Please contact the Primary User to proceed with tax exemption requests. For further assistance please contact us at taxexempt@newegg.com.
Processing Timeframe
All submitted tax exemption certificates take 2 business days to process. Once your application is processed, future orders will no longer be taxed by NeweggBusiness.com.
A valid resale permit & reseller certificate must be in place during purchase to qualify for sales tax exemption.
What is a valid resale permit? valid resale permit number, date, and company name verified against state government data base.
What is a valid resale certificate? date, description of property being purchased for reseller, and signed reseller certificate.
Having Issues?
If your having issues, please send us an email along with your issue and information to: taxexempt@newegg.com